NOTE: If you haven't heard of Jahi McMath's story, you can read about it
here
. I go into more details
here
,
here
,
here
, and
here
, and
my personal Jahi FAQ is here
.
About nine months ago I left the sad saga of Jahi McMath behind and moved on, thinking everyone else (including her family) would do the same. Boy, was I ever wrong.
Now this is not the first time I've ever been wrong about something (just ask Mrs. Bastard), but unlike many people, I have
no
problem admitting when I'm wrong when I've been proven so. I see no purpose in continuing to argue even in the face of overwhelming evidence against me.
But just when I had thought I had heard the end of the story, Jahi's family (along with their lawyer Chris Dolan) came roaring back into the news this week with some rather astonishing claims, and an even more unbelievable request: based on some purported new tests, they are petitioning the court to
overturn her death and
declare her alive
.
I'll give you all a moment to bask in the glow of that mind numbing stupidity before I move on.
One of the main reasons for this request is the contention that Jahi is responding to and following commands. Two videos were released that appear to show just that:
Before anyone rushes to judgment ("It's a hoax! It's a fake! There are strings attached!"), I am reserving judgment on these videos myself. It is possible that she was moving her hand and foot before the camera started rolling (which, by the way, is an obsolete phrase. Cameras don't roll anymore. Non sequitur over.), and that Jahi's family took advantage of her pre-existing spinal reflex movements and recorded them. And before anyone asks, studies show that these type of movements in brain dead patients are
not that unusual, occuring in about 1 in 7 brain dead patients
. From the article:
The other reflex movements observed in our brain-dead patients were finger and toe jerks, extension at arms and shoulders, and flexion of arms and feet.
In case you didn't (or couldn't) watch the videos, these are exactly the movements that Jahi is making.
If that weren't enough, there are other claims made by the family and their lawyer. Apparently she has started menstruating, and Dr. Alan Shewmon, a well-renowned and rather famously anti-brain-death neurologist, claims this proves that she is not brain dead, since the pituitary gland is responsible for secreting the hormones that are responsible for menses. Game, set, and match. Right?
Ah ah ah, not so fast.
Studies on brain dead women have revealed
that function in both the hypothalamus and the anterior pituitary gland (the portion that produces
FSH
and
LH
), is preserved even in brain death. So the fact that Jahi now has her period is interesting, but meaningless.
The family's next assertion to support the "Jahi is alive" line is that an MRI shows preserved brain tissue. Here is a screenshot of her MRI: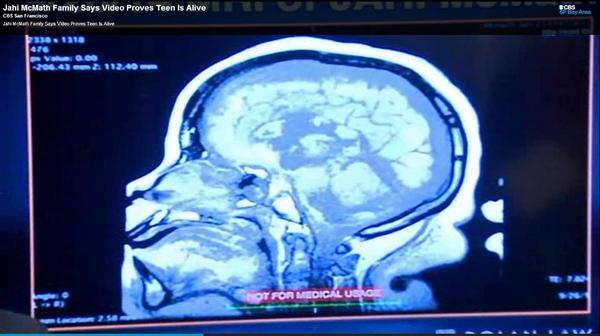 If there are any radiologists looking at this, a comment would be gratefully appreciated. What this shows is catastrophic damage to her midbrain and brain stem, but it does show some preserved cerebral cortex (brain tissue). What this means functionally is impossible to assess based on this one image. This alone doesn't mean she is alive. All I can really say is that there is some brain tissue there. Again, interesting but meaningless.
Perhaps the most astonishing claim is that she has electrical activity in her brain based on a recent EEG. I haven't seen her EEG, but this is enough to make me stop and think. Brain death means a silent brain, so there should be no electrical activity in there at all. If she does have electrical activity, that raises a lot of question marks.
The most telling part of this news is that the doctors supporting these claims hail from the
International Brain Research Foundation
which is based in the United States. I sure was impressed that such an impressive-sounding foundation would support the idea that Jahi could come back from brain death . . . until I looked into the IBRF and discovered that they are a collection of alternative therapy-driven
self-described "mavericks
" of brain injury research. To give you an idea of who these people are, their chief medical officer Dr. Jonathan Fellus
lost his medical licence this year for having sexual relations with one of his brain-injured patients
. It's unethical enough having an extra-marital affair with a patient, but doing it with a brain-injured patient is simply unconscionable (pun intended). If you really want to be creeped out, read the full article.
Not all the doctors who are looking at Jahi are like ex-Dr. Fellus, however. Dr. Calixto Machado, a well-respected Cuban neurologist and author of numerous articles on brain death (including one I have referenced myself), has been asked to evaluate her. Dr. Charles Prestigiacomo, chair of neurosurgery at Rutgers University, has also raised questions based on the results of the various studies (though I'm not sure if either Dr. Machado or Dr. Prestigiacomo has actually examined her).
Damn, this ended up much longer than I was expecting.
Anyway, the bottom line here is that no objective evidence that Jahi McMath is alive has been presented. There
must
be independent confirmation of the family's claims by a competent doctor. If the claims are verified, then one of the following two statements must be true:
All six doctors who examined her back in December and declared her brain dead were wrong, they all interpreted her brain death studies incorrectly, and all of the studies showing she was brain dead were wrong, or
Brain death is not absolute and it is possible to recover, even somewhat.
If the claims are verified, then she is most certainly not dead, and every medical textbook publisher on the planet will have to revise every medical textbook on the subject of brain death. If that time comes, I will readily and freely admit that I was wrong, and every other doctor that believes that brain death equals death and is finite and irreversible will have to do the same.
But if the claims are untrue and/or this turns out to be nothing more than a cruel hoax, then shame on the family, shame on the lawyer, shame on the IBRF, and shame on the media for drawing out this incredibly tragic affair even longer.