I was supposed to be publishing another stupid patient story today. I didn't think I would be writing about this. Again. I thought the death of 58 innocent people in Las Vegas a month ago would be enough to stimulate the United States government to talk about gun control. To at least get a conversation started. I thought surely something,
anything
would happen, something would get done, some conversation would get initiated in Washington DC that would lead to
some
kind of change.
Then over the next few weeks, the furor over the shooting withered. Then it died completely. Instead of reading about potential gun control legislation, I read about a new US tax bill that was introduced. Whoopdefucking doo.
And now there is yet another mass shooting in the US, this time in Texas. As of this writing, at least 26 more innocent people are dead after a young man walked into a church and started shooting parishioners. Among the victims are a 5-year-old, the 14-year-old daughter of the church's pastor, and a pregnant mother and three of her children. As shocking as that may be, this isn't even the first mass church shooting in recent memory.
I'm going to repeat that in case you didn't get it the first time: THIS IS NOT EVEN THE FIRST MASS
CHURCH
SHOOTING IN THE PAST TWO YEARS.
How the hell is this possible? How does the American government allow this to continue, time after time after time?
Because the American public, and their government, just don't get it. Within hours, gun nuts immediately piped up, defending their precious guns.
— FastEddieFelson (@rdeh20) November 5, 2017
This seems to be one of their favourites, especially after several people were run over in Edmonton a month ago, in Barcelona back in August, and in New York City a few days ago. On the surface it seems like a valid argument. But if you think about it a little deeper, the argument boils down to "Crazy people who want to kill will find a way to kill. Either ban everything that can kill, or don't ban anything."
Really? Is that the best you can do? First of all, you need a licence, registration, and training to operate a car. You need none of those things to buy a gun. Of course you can steal a truck and use it for whatever nefarious purpose you choose, but that doesn't change the fact that you
don't
need a licence, registration, or training to buy a gun in the United States. That is absolutely unconscionable.
Second of all, cars are essential for everyday life. Guns are not.
Third of all, this guy didn't use a truck. He used this:
Can anyone explain to me why an American citizen needs one of these. Anyone? Are you protecting your family from home invaders with one of these? Are you hunting with one of these? Are you going skeet shooting with one of these? Oh, perhaps
this
is the reason:
It's not a bad thing, but what caused it is a bad thing. I believe in the right to own arms to protect yourself from governmental tyranny

— Jay Clifton (@jaymclifton) November 5, 2017
Really? REALLY? Yes, that's how the second amendment reads, because that's what the second amendment was originally about. But this is 2017, not 1791 when that amendment was written. In 2017 the United States government has hundreds of thousands of soldiers in their army, navy, air force, and marines with the most high-tech weaponry on the planet. Oh, and in case you didn't notice, they also have fucking
drones
. You really think that rifle is going to protect you from drones? Apparently he does:
If the second amendment wasn't restricted and citizens could own any type of firearm they wished we could overthrow a tyrannical government

— Jay Clifton (@jaymclifton) November 5, 2017
Because according to gun fanatics, the solution isn't just
more guns
, it's
more BIGGER guns
. I can't even muster an appropriate response to that. I just can't.
Then there was this bit of singular stupidity:
You're stupid isn't there a law against murder didn't stop a thing make all the laws you want won't change a thing

— Ron Bishop (@RonBish88147167) November 5, 2017
I fed this through my Idiot to English Translation Engine, and this is what came out:
People break laws, so you may as well not even make laws.
Which is quite possibly one of the stupidest arguments against gun control I have ever seen and much stupider than my imagination could have ever dreamed up. Anarchy as the solution to crime. Speechless.
So after two horrific mass shootings barely a month apart, surely US politicians are ready to talk about gun control, right? Right?
Reports out of Texas are devastating. The people of Sutherland Springs need our prayers right now.

— Paul Ryan (@SpeakerRyan) November 5, 2017
Prayers? These people were at church. They already had prayers. Prayers aren't going to stop mass shootings.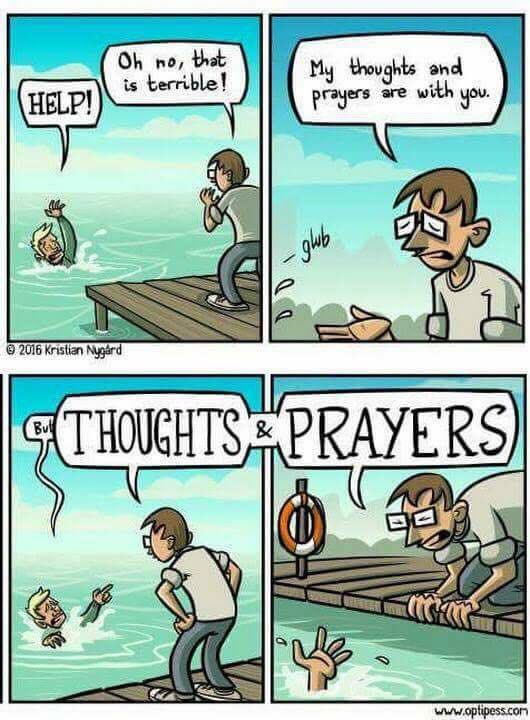 And President Trump (I still can't believe that phrase is real) said this:
Mental health is your problem here. This isn't a guns situation, this is a mental health problem at the highest level. It's a very, very sad event.
Mental health is the issue with any murder, because only an immoral waste of carbon and oxygen would murder another human being. But if you give that waste of carbon and oxygen a gun, you make it much easier to take a life.
Or twenty six.
Or fifty eight.